Scenario:
For this lab you need REAL hardware. You can't use switches in GNS3!
You only need layer 2 switches for this lab. The Cisco Catalyst 2950 or higher will work.
You are working as a trainee at a large African safari company and acquired the task of setting up VTP (Vlan Trunking Protocol). You need to create a bunch of VLANS and it would be a shame if you had to do everything by hand, let's see if you can find a faster and more scalable solution.
Goals:
Create the following VLANS on switch Bobcat:

VLAN 10: name Tigers

VLAN 20: name Lions

VLAN 30: name Panthers

Configure the interfaces between the switches as trunks.

Configure switch Bobcat to be the VTP server.

Configure switch Panther to be a VTP client.

Configure switch Tiger so it does not synchronise itself to the lastest VTP information, it should forward advertisements to switch Panther though.

Change the VTP domain name to "GNS3Vault".

Use the password "Vault" for VTP.

Make sure there is no unnecessary vlan traffic flooded on the trunk links.
It took me 1000s of hours reading books and doing labs, making mistakes over and over again until I mastered all the protocols for CCNA.
Would you like to be a master of networking too? In a short time without having to read 900 page books or google the answers to your questions and browsing through forums?
I collected all my knowledge and created a single ebook for you that has everything you need to know to become a master of CCNA.
You will learn all the secrets about VLANs, VTP and more.
Does this sound interesting to you? Take a look here and let me show you how to Master CCNA!
IOS:
c3725-adventerprisek9-mz.124-15.T7.bin
Topology: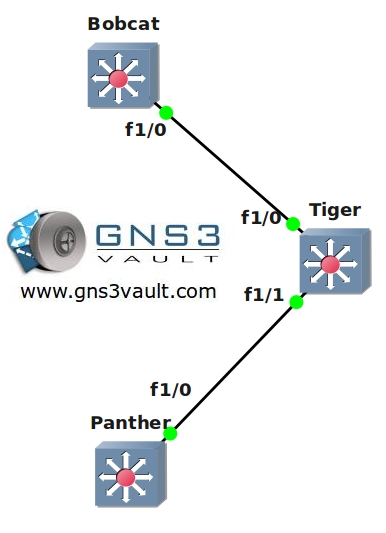 Video Solution:
Configuration Files
You need to
register
to download the GNS3 topology file. (Registration is free!)
Once you are logged in you will find the configuration files right here.