Scenario:
For this lab you need REAL hardware. You can't use switches in GNS3!
You need at least Catalyst 2950 switches for this lab.
You are a master of spanning tree and specialized in migration scenarios. Corkscrew inc. is one of your customers and they are having issues with their switches. There are many VLANs in the network and you would like to reduce the number of spanning tree calculations. As a result you decide to implement MST (Multiple Spanning Tree) for them.
Goal:
Configure PAgP between SW1 and SW2. SW1 should actively try to form an Etherchannel and SW2 should only respond to requests.
Configure LACP between SW1 and SW3. SW1 should actively try to form an Etherchannel and SW3 should only respond to requests.
Configure an Etherchannel between SW2 and SW3. You are not allowed to use any protocol for negotiation.
Configure the etherchannel between SW1 and SW2 to use destination MAC address load-balancing.
It took me 1000s of hours reading books and doing labs, making mistakes over and over again until I mastered all the switch protocols for CCNP.
Would you like to be a master of switching too? In a short time without having to read 900 page books or google the answers to your questions and browsing through forums?
I collected all my knowledge and created a single ebook for you that has everything you need to know to become a master of switching.
You will learn all the secrets about PaGP, LACP, Etherchannels, link aggregation and more.
Does this sound interesting to you?
IOS:
Basic IOS for the switches should be sufficient. No special features needed.
Topology: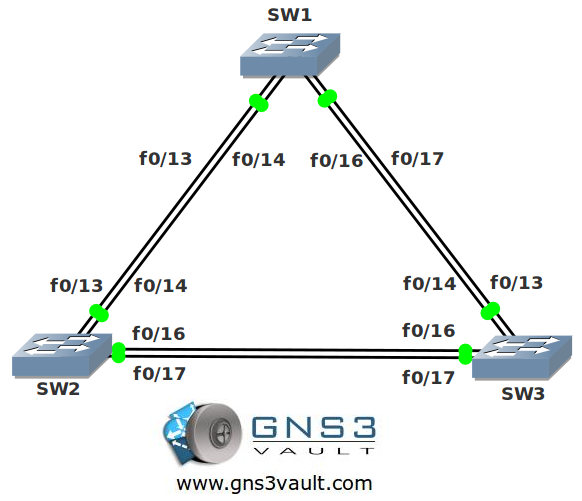 Video Solution:
Configuration Files
You need to
register
to download the GNS3 topology file. (Registration is free!)
Once you are logged in you will find the configuration files right here.


Here are the configuration files: