You might be wondering what GNS3Vault is all about?
Dynamips is software that lets you run Cisco IOS on your PC or Laptop. In other words, you are now able to run multiple routers on your own computer, so you don't need real hardware anymore. This is convenient in many ways…no more cabling, no need to buy used hardware on eBay, no high electricity bills!
GNS3 is a GUI for Dynamips which makes your life even easier.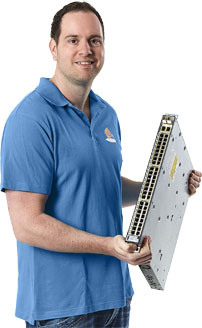 GNS3Vault was built by Rene Molenaar, a freelancer dedicating his time to IT.
The idea behind GNS3Vault is to have a single resource with labs ready for you to download and start configuring.
All labs have the same format, and they are categorized in a number of technologies.
Goal of the website is to have a clear overview, that's why all the labs have the same "setup":
Scenario: A short story about the lab, and what you need to achieve.
Goal: The goals you need to achieve to finish the lab.
IOS: The IOS version that was used to build the lab.
Topology: Picture to show what the network looks like.
Video Solution: some of the labs have a youtube video explaining to you how to solve the lab.
Why the name GNS3Vault? Well, the explanation is easy:
GNS3 is the name of the software.
Vault because this website will be like a vault full of interesting stuff….in this case, labs!
Enjoy our labs!
Rene Molenaar
GNS3Vault