Scenario:
For this lab you need REAL hardware. You can't use switches in GNS3!
You need at least a Cisco Catalyst 3550 switch for this lab.
The network agency corporation has hired you as a spanning tree specialist. One of their customers has issues with a switched network that only has fiber connections. Every now and then there's a problem with the fiber and as a result layer 2 loops occur. It will take two months for the fiber company to check all cables/connectors so you want a temporary solution…
Goal:
Configure all IP addresses as specified in the topology picture.
Configure SW1 so it builds a routing table.
Configure SW1 so router DNS1 and DNS2 are in VLAN 10.
Configure the fa0/3 interface on SW1 as a routed port.
Ensure all routers are able to communicate with each other.
It took me 1000s of hours reading books and doing labs, making mistakes over and over again until I mastered all the switch protocols for CCNP.
Would you like to be a master of switching too? In a short time without having to read 900 page books or google the answers to your questions and browsing through forums?
I collected all my knowledge and created a single ebook for you that has everything you need to know to become a master of switching.
You will learn all the secrets about switching, SVI interfaces, switchports VS layer 3 interfaces and more.
Does this sound interesting to you? Take a look here and let me show you how to Master CCNP SWITCH
IOS:
Basic IOS for the switches should be sufficient. No special features needed.
Topology: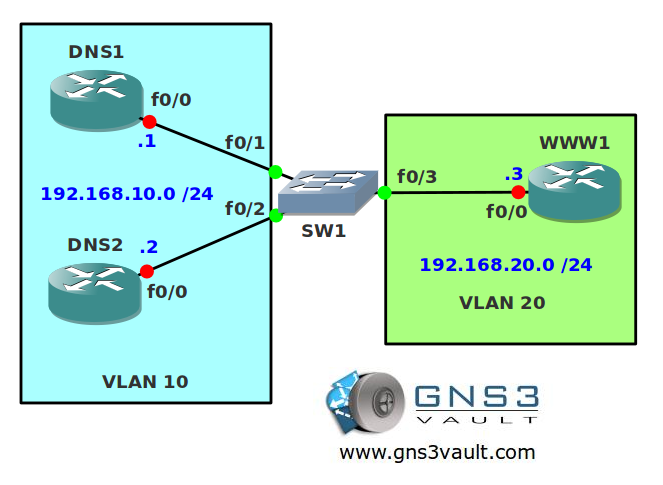 Video Solution:
Configuration Files
You need to
register
to download the GNS3 topology file. (Registration is free!)
Once you are logged in you will find the configuration files right here.