Scenario:
Your VoIP network is a little problematic to say the least. VoIP calls sound choppy and users are complaining all over the place. You look into the datastreams and it seems large data frames are preventing VoIP packets to get to their destination in time. You can't upgrade the links but you have read about link fragmentation and interleaving…let's chop em down!
Goal:
All IP addresses have been preconfigured for you.
Configure PPP encapsulation between router Chop and Slice.
Configure PPP Multilink between router Chop and Slice.
Configure fragmentation and interleaving on router Chop and Slice.
The serialization delay should have a maximum of 10ms. The bandwidth of the serial link is 64kbps.
IOS:
c3640-jk9s-mz.124-16.bin
Topology: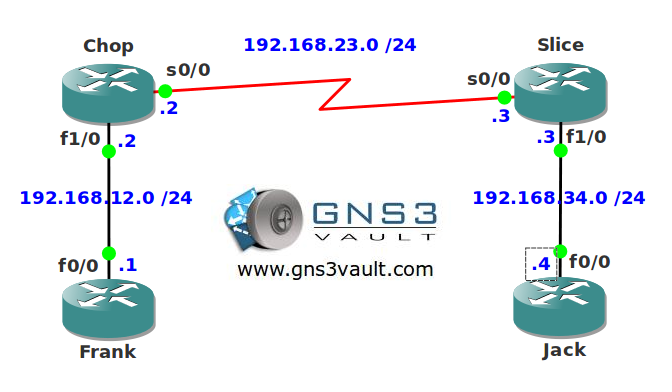 Video Solution:
Configuration Files
You need to
register
to download the GNS3 topology file. (Registration is free!)
Once you are logged in you will find the configuration files right here.