Scenario:
This lab is a follow-up of the OSPF Stub lab. I'd recommend you configure that lab before this one.
The company specialized in selling Fantasy E-books is becoming more popular everyday and after your trainee period they decided to offer you a job. They still don't have any money to upgrade their network equipment and they are still experiencing problems with big routing tables… time to tune OSPF some more!
Goal:
All IP addresses have been preconfigured for you.
Configure OSPF on both routers, use the Area's as specified in the topology picture.
Router Algrim: Loopback0 should be in Area0
Achieve full connectivity.
Router Algrim: create additional loopbacks:
L1: 172.16.0.1 /24
L2: 172.16.1.1 /24
L3: 172.16.2.1 /24
L3: 172.16.3.1 /24
Advertise these networks into OSPF Area 0.
Take a look at the routing table of Router Barik, you should see all 4 networks. Make sure you can ping them.
Change the area type of Area 1 so you don't see the 4 networks anymore but only 1 default route.
Make sure you can still ping the 4 networks.
It took me 1000s of hours reading books and doing labs, making mistakes over and over again until I mastered all the protocols for CCNP.
Would you like to be a master of networking too? In a short time without having to read 900 page books or google the answers to your questions and browsing through forums?
I collected all my knowledge and created a single ebook for you that has everything you need to know to become a master of CCNP.
You will learn all the secrets about OSPF special area types like stub, totally stub and more.
Does this sound interesting to you? Take a look here and let me show you how to Master CCNP ROUTE!
IOS:
c3640-jk9s-mz.124-16.bin
Topology: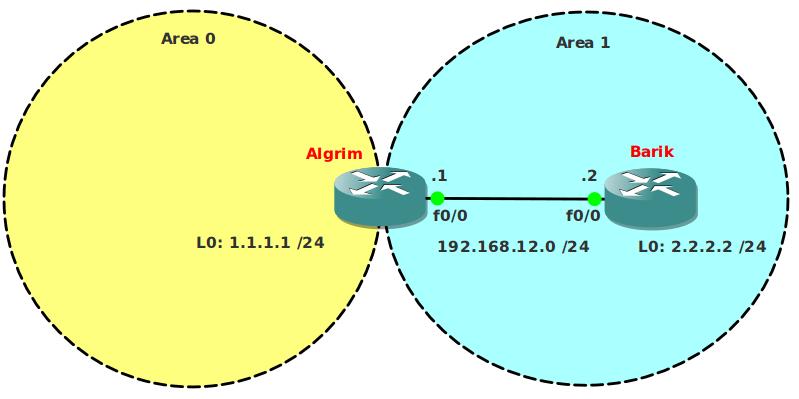 Video Solution:
Configuration Files
You need to
register
to download the GNS3 topology file. (Registration is free!)
Once you are logged in you will find the configuration files right here.