Scenario:
You run a company that sells Virtual Worlds for gamers. The network you are using is running on OSPF and one of the areas is a NSSA. At the moment you are not sure which router is performing the translation from LSA Type 7 to Type 5 into your backbone router. Up to you to check it out!
Goal:
All IP addresses have been preconfigured for you.
Configure OSPF Area 0.
Configure OSPF Area 1 as NSSA.
Redistribute the loopback0 interface on router Sam into OSPF Area 1.
Ensure router Tron is the router performing the translation from LSA Type 7 to Type 5 into area 0.
It took me 1000s of hours reading books and doing labs, making mistakes over and over again until I mastered all the protocols for CCNP.
Would you like to be a master of networking too? In a short time without having to read 900 page books or google the answers to your questions and browsing through forums?
I collected all my knowledge and created a single ebook for you that has everything you need to know to become a master of CCNP.
You will learn all the secrets about OSPF, stub, totally stub, nssa, totally nssa and more.
Does this sound interesting to you? Take a look here and let me show you how to Master CCNP ROUTE!
IOS:
c3640-jk9s-mz.124-16.bin
Topology: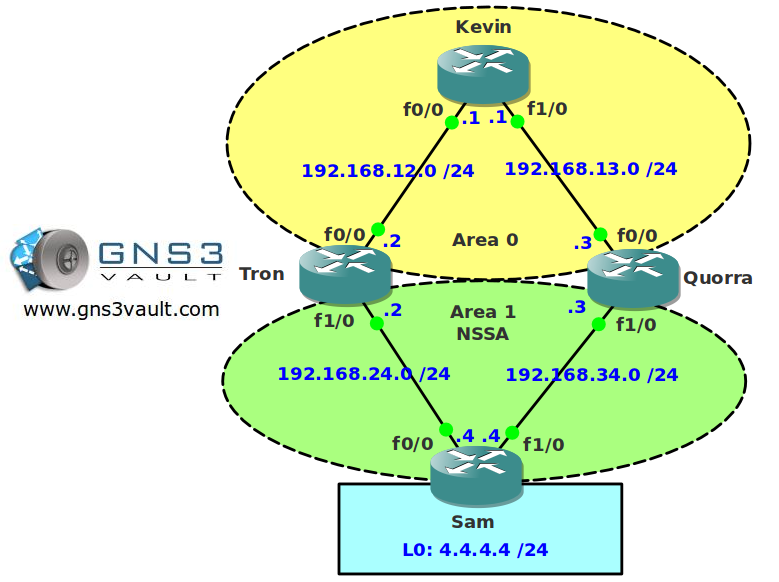 Video Solution:
Configuration Files
You need to
register
to download the GNS3 topology file. (Registration is free!)
Once you are logged in you will find the configuration files right here.