Scenario:
You are looking at a small network with a HQ and Branch router. At the HQ there is a webserver located and many users from the branch office are accessing this webserver. Between HQ and Branch there are two links. A fast cheap FastEthernet connection and a slow and very expensive serial link. You want to make sure the serial link will only be used when the FastEthernet fails. You don't trust the layer 1 and 2 information of the interface so you want to make sure you use layer 3 information to check if the webserver is reachable.
Goal:
All IPv4 addresses have been preconfigured for you.
Configure router Branch with a static route to reach the webserver through the FastEthernet link.
Configure router Branch with another static route to reach the webserver through the serial link. Make sure this static route is only used when the FastEthernet static route disapears.
Configure IP SLA on router Branch to ping the IP address of the webserver. Once it starts it should never stop.
If you don't receive a ping for 5 seconds from the webserver router Branch should remove the static route for the FastEthernet link from the routing table.
If everything goes ok all traffic will now be sent through the serial link.
IOS:
c3640-jk9s-mz.124-16.bin
Topology: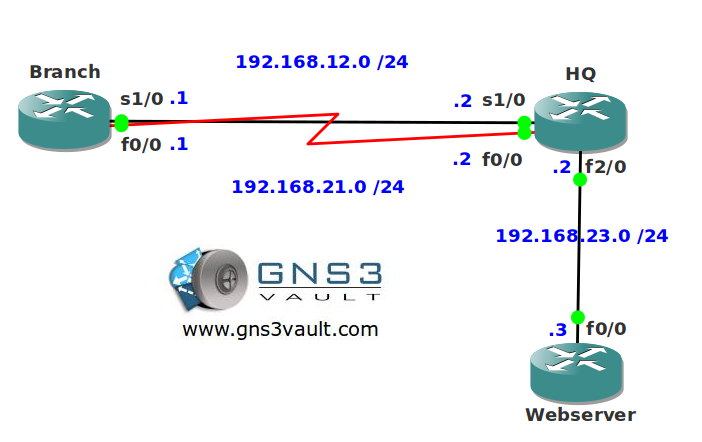 Video Solution:
Configuration Files
You need to
register
to download the GNS3 topology file. (Registration is free!)
Once you are logged in you will find the configuration files right here.