Scenario:
Internet traffic is becoming more and more important since the company you are working for is focused on e-commerce. Every minute that their webservers running webshops are unavailable is causing profit loss. The company decided need a scalable solution and get rid of the single router (NewJersey), so there is no single point of failure anymore. Up to you to start configuring!
Goal:
All IP addresses have been preconfigured as following:NewYork: F0/0: 192.168.1.1 /24
NewYork: F0/1: 192.168.2.1 /24NewJersey: F0/0: 192.168.1.2 /24
NewJersey F0/1: 192.168.2.2 /24

L.A.: F0/0: 192.168.1.3 /24
L.A.: F0/1: 192.168.2.3 /24

HOST: F0/0: 192.168.1.200 /24

IPS: F0/0: 192.168.2.254 /24

The ISP router has the following loopback interfaces, these are used to simulate the Internet.Loopback0: 172.16.1.1 /24
Loopback1: 172.16.2.1 /24
Loopback2: 172.16.3.1 /24
The host router has been configured with "no ip routing" which will turn it into an ordinary host.
OSPF has been configured on all routers except the host router for full connectivity.
Configure NewYork, Newjersey and L.A. for VRRP, use the group number "1".
The virtual IP Address should be 192.168.1.254 /24 .
Newjersey should be the master router, when it fails L.A. should take over.
Hello packets should be sent every 7 seconds.
Make sure the router with highest priority will always be the Master router.
Configure authentication for VRRP, use password "vault".
When the HSRP active router's F0/1 interface goes down, make sure it's no longer the master VRRP router.
Configure the virtual IP address of VRRP as default gateway on the Host Router.
Ensure you can ping the loopbacks of the ISP router from the Host router.
Ensure that whenever 2 out of 3 routers are down, the Host router still has connectivity to the ISP.
It took me 1000s of hours reading books and doing labs, making mistakes over and over again until I mastered all the routing protocols for CCNP.
Would you like to be a master of routing too? In a short time without having to read 900 page books or google the answers to your questions and browsing through forums?
I collected all my knowledge and created a single ebook for you that has everything you need to know to become a master of routing.
You will learn all the secrets about VRRP, gateway redundancy and more.
Does this sound interesting to you? Take a look here and let me show you how to Master CCNP ROUTE
IOS:
c3725-adventerprisek9-mz.124-15.T7.bin
Topology: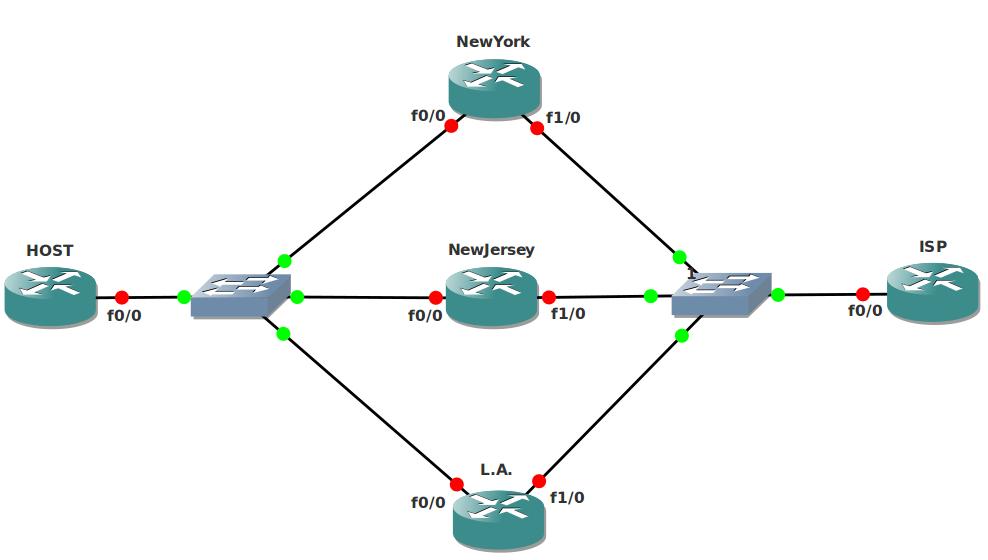 Video Solution:
Configuration Files
You need to
register
to download the GNS3 topology file. (Registration is free!)
Once you are logged in you will find the configuration files right here.