Scenario
As the network manager for a greek company called "DivineLabs" you are assigned the task to configure Integrated Routing and Bridging (IRB) on some of your routers. Some of the older applications that the company is still using only work with IPX, and they need to be supported in the future as well. You heard about IRB and how it can turn a router into a bridge, this might be a good solution for some future problems when the network will be upgraded. Time for you to configure some bridging!
Goal:
You are only allowed to use a single subnet: 192.168.123.0 /24
Router Wodan: 192.168.123.1
Router Thor: 192.168.123.2
Router Zeus: 192.168.123.3
Configure IRB on Router Thor.
The goal is to achieve full connectivity, you need to be able to ping all IP addresses.
IOS:
c3640-jk9s-mz.124-16.bin
Topology: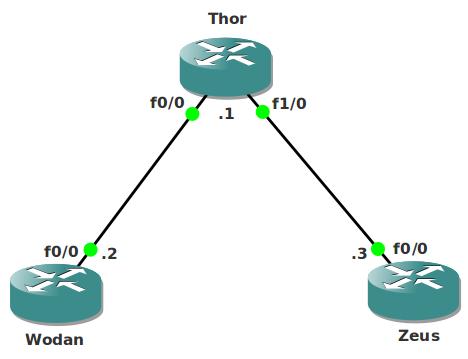 Video Solution:
Configuration Files
You need to
register
to download the GNS3 topology file. (Registration is free!)
Once you are logged in you will find the configuration files right here.