Scenario:
A well-known science laboratory specialized in researching "portal" technology has a small network running OSPF. One of their terminals is used by a scientist to reach a central server. However every time router Alive crashes it's impossible to re-connect to the central server. Besides a scientist you are also a network engineer, let's see if you can portal yourself out of this one…
Goal:
All IP addresses have been preconfigured for you.
OSPF has been configured for connectivity.
Configuge router Terminal so it detects dead TCP connections and closes them.
You can test this by using telnet on router Server to router Terminal and shutting the F1/0 interface on router Alive afterwards to simulate a dead connection.
IOS:
c3640-jk9o3s-mz.124-16.bin
Topology: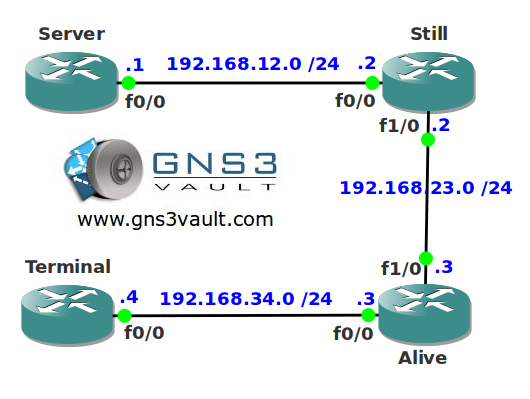 Video Solution:
Configuration Files
You need to
register
to download the GNS3 topology file. (Registration is free!)
Once you are logged in you will find the configuration files right here.