Scenario:
You are the network engineer at a company specialized in creating virtual worlds. The last few months the company gained quite some new customers, for each customer a new router has to be installed and to save time you want to make sure you can automatically them using the auto-install feature.
Goal:
All IP addresses have been preconfigured for you (except router Flynn).
EIGRP has been configured for connectivity.
Router Flynn should request an IP address for the FastEthernet 0/0 interface using RARP.
Router Quorra should give router Flynn IP address 192.168.12.1.
Router Flynn has to receive its configuration file from router Jarvis.
IOS:
c3640-jk9s-mz.124-16.bin
Topology: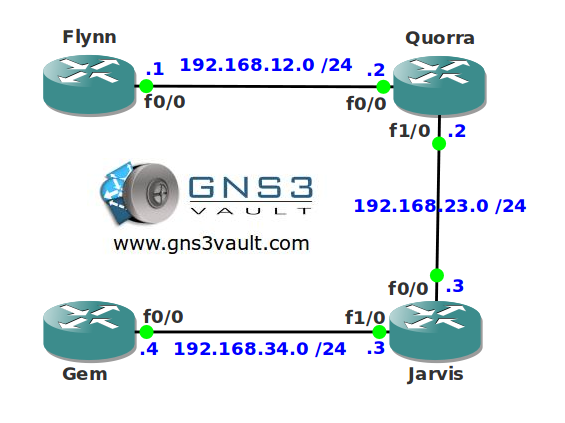 Configuration Files
You need to
register
to download the GNS3 topology file. (Registration is free!)
Once you are logged in you will find the configuration files right here.