Scenario:
One of the largest service providers in The Netherlands has been succesfully implementing MPLS in their backbone. The last years they have been serving customers with PE-CE setups without any problem. Yesterday a new customer specialized in selling Bananas arrived who is not looking for a PE-CE solution but rather would see an end-to-end Ethernet solution. Since the ISP has never configured this before they ask you; A respected Cisco Guru to implement MPLS AtoM (Any Type over MPLS) for them. Let's see if you can pull this one off!
Goal:
All IP addresses have been preconfigured for you.
All ISP routers have a loopback0 interfaced configured as following:
PE1: 2.2.2.2 /25
P: 3.3.3.3 /25
PE2: 4.4.4.4 /25
Configure OSPF Area 0 at the provider side (Router PE1, PE2 and P).
Advertise the loopback interfaces as well in OSPF.
Make sure you don't send any OSPF Hello packets towards the customer.
Ensure you have full reachability in the OSPF domain.
Configure MPLS on all physical interfaces in the service provider domain, do not configure MPLS on physical interfaces pointing towards the customer.
Configure the PE routers to encapsulate every frame in a MPLS packet and to forward it to the other PE router using VC ID 15.
Make sure router BananaHQ and BananaBranch can ping each other.
IOS:
c7200-adventerprisek9-mz.124-20.T.bin
Topology: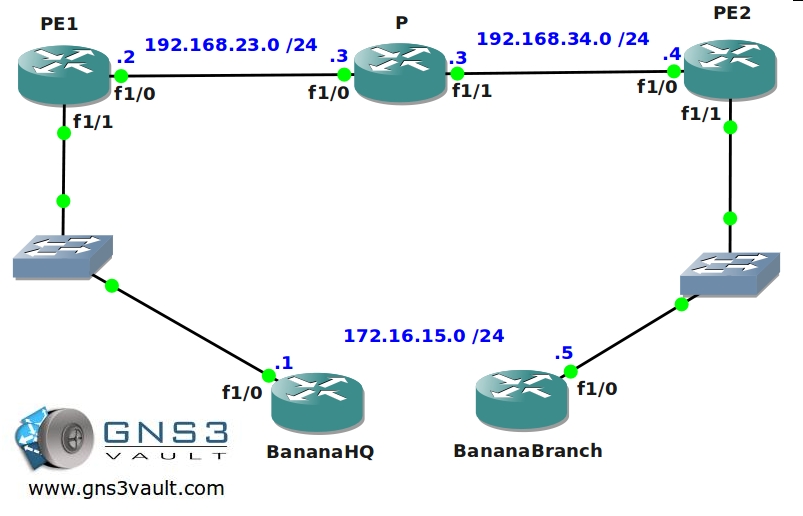 Video Solution:
Configuration Files
You need to
register
to download the GNS3 topology file. (Registration is free!)
Once you are logged in you will find the configuration files right here.