Scenario:
The movie industry is dominated by Holly- and Bollywood. Recently the two companies are creating movies together and using a shared network infrastructure. To make sure the routing tables of the EIGRP routes don't grow too much you decide to implement summarization. This has a unwanted side-effect however since now the serial-link is used to reach some networks.
Goal:
All IP addresses have been preconfigured for you.
Configure EIGRP on both routers and advertise everything. Activate it on both interfaces.
Create a summary advertising a default route on router Bollywood using the FastEthernet 0/0 interface.
Ensure router Hollywood doesn't use the serial link to reach network 2.2.2.0 /24. You are not allowed to create any static routes.
It took me 1000s of hours reading books and doing labs, making mistakes over and over again until I mastered all the routing protocols for CCNP.
Would you like to be a master of routing too? In a short time without having to read 900 page books or google the answers to your questions and browsing through forums?
I collected all my knowledge and created a single book for you that has everything you need to know to become a master of routing.
You will learn all the secrets about EIGRP, summarization, leak-maps and more.
Does this sound interesting to you? Take a look here and let me show you how to Master CCNP ROUTE
IOS:
c3640-jk9s-mz.124-16.bin
Topology: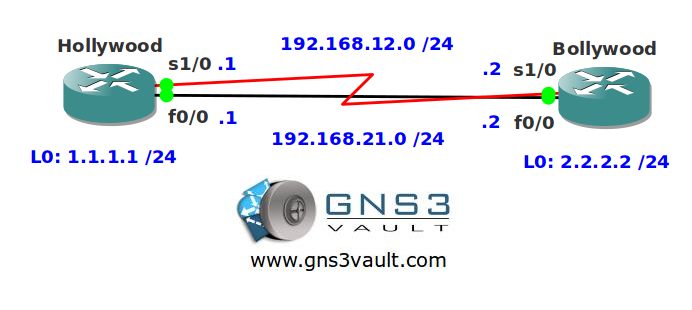 Video Solution:
Configuration Files
You need to
register
to download the GNS3 topology file. (Registration is free!)
Once you are logged in you will find the configuration files right here.