Scenario
As a fan of comedy movies you are making sure your network is optimized so you can send videos without any disruptions in the network. You heard EIGRP (Enhanced Interior Gateway Routing Protocol) is a good choice since the failover speed is low and it's able to load balance between unequal paths. There are 3 different serial links and you want to make the optimal use of them. Whenever a link fails you need to make sure the routing protocol converges as soon as it can….surely you can solve this!
Goal:
All IP addresses have been preconfigured for you:
Leslie: 192.168.X.1 /24 (.1 – .2 & .3 on serial links)
Leslie: L0: 1.1.1.1 /24Airplane: 192.168.X.2 /24 (.1 – .2 & .3 on serial links)
Airplane: F0/0:192.168.23.2 /24

Shirley: F0/0: 192.168.23.3 /24
Shirley: L0: 3.3.3.3 /24

Configure EIGRP AS123 on all routers, advertise all networks.
You are not allowed to make changes to the K values or Bandwidth on interfaces.
Disable EIGRP auto-summarization.
Make sure that only S0/0 and S0/1 are visible in the routing table and used for sending traffic.
When S0/0 and S0/1 both fail make sure that S0/2 takes over.
It took me 1000s of hours reading books and doing labs, making mistakes over and over again until I mastered all the protocols for CCNA.
Would you like to be a master of networking too? In a short time without having to read 900 page books or google the answers to your questions and browsing through forums?
I collected all my knowledge and created a single ebook for you that has everything you need to know to become a master of CCNA.
You will learn all the secrets about EIGRP, successors, feasible successors, path selection and more.
Does this sound interesting to you? Take a look here and let me show you how to Master CCNA!
IOS:
c3640-jk9s-mz.124-16.bin
Topology: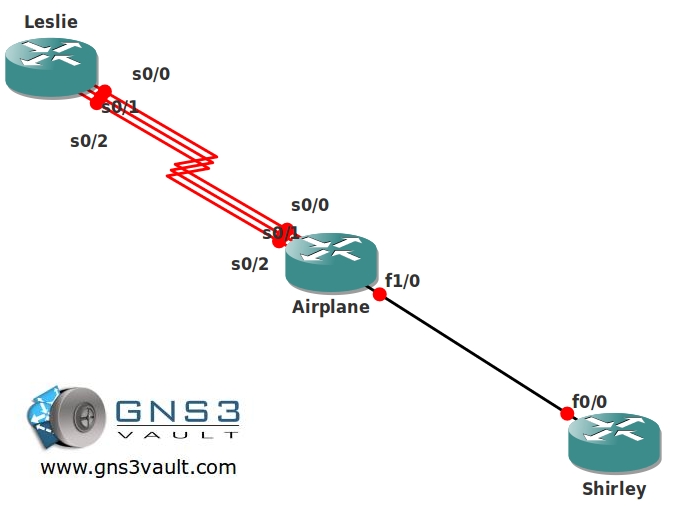 Video Solution:
Configuration Files
You need to
register
to download the GNS3 topology file. (Registration is free!)
Once you are logged in you will find the configuration files right here.