Scenario:
You and a colleague network administrator were talking about the scalability and flapping network issues that you have encountered in the past. Especially the stories about EIGRP stuck-in-active make you shiver…On your network you are using EIGRP as a routing protocol, and you have heard that summarization and stub routers might solve some of your problems….time for some good old lab action!
Goal:
Achieve full connectivity, every IP Address should be pingable from any router.
When you ping 1.1.1.1 from R4 it should take the path through R2.
Change the EIGRP Metrics so load/reliability are also used in addition to bandwidth and delay.
Disable EIGRP auto-summary.
Create 4 extra loopbacks on R3:
Loopback10: 172.16.0.1 /24
Loopback11: 172.16.1.1 /24
Loopback12: 172.16.2.1 /24
Loopback13: 172.16.3.1 /24
Advertise these networks in EIGRP, the routing table on R1,R2 and R4 should only show a single entry for these networks: 172.16.0.0/22
Create a default route on R1, if you look at the routing table on R2,R3 or R4 it should show the default route pointing to R1.
Change the bandwidth on R2 on FastEthernet0/0 to 100. Make sure you only see 1 entry for the 1.1.1.0 network in R4.
Without modifying R2, make sure R4 has 2 entries for the 1.1.1.0 network, one by going through R2, the other one through R3. only use EIGRP or bandwidth commands to achieve this.
Enable authentication between R1 and R2:
key-chain: CISCO
key-string: PASSWORD
Disable the link between R3 and R4.
Make sure that when you type 'shutdown' on Loopback1 at R2, R1 will not send a QUERY to R3. (hint: to check this, do a 'debug eigrp packets query reply)
It took me 1000s of hours reading books and doing labs, making mistakes over and over again until I mastered all the routing protocols for CCNP.
Would you like to be a master of routing too? In a short time without having to read 900 page books or google the answers to your questions and browsing through forums?
I collected all my knowledge and created a single ebook for you that has everything you need to know to become a master of routing.
You will learn all the secrets about OSPF, EIGRP, BGP and more.
Does this sound interesting to you? Take a look here and let me show you how to Master CCNP ROUTE
IOS:
c3640-jk9s-mz.124-16.bin
Topology: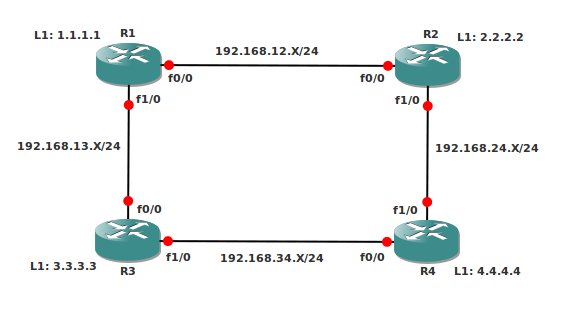 Configuration Files
You need to
register
to download the GNS3 topology file. (Registration is free!)
Once you are logged in you will find the configuration files right here.