Scenario:
As the senior security officer you decide all routing protocols should be configured as secure as possible. The company you work for has a single vendor policy and since you only have Cisco equipment you are running EIGRP (Enhanced Interior Gateway Routing Protocol). EIGRP has more advanced features for authentication since it uses a key-chain. The key-chain supports rotating keys which makes it more secure than having a single static key. Before implementing this for your whole organization you decide to test your enhanced security in a lab environment.
Goal:
All IP addresses have been preconfigured for you.
EIGRP has been preconfigured for you (AS12).
Enable EIGRP authentication between router Jack and Johnson. Use the following parameters:
Key-chain should be called: GNS3VAULT
Key1: password VAULT
Key2: password SAFE
Key1 should be sent until 9:00AM on the 2nd of february 2020 and should be accepted 15 minutes past this time.
Key2 should be valid from 8:50AM on the 2nd of february 2020 and should be valid till the 1st of february 2021.
Make sure routing adjacencies do not drop when the keys are switched.
It took me 1000s of hours reading books and doing labs, making mistakes over and over again until I mastered all the protocols for CCNA.
Would you like to be a master of networking too? In a short time without having to read 900 page books or google the answers to your questions and browsing through forums?
I collected all my knowledge and created a single ebook for you that has everything you need to know to become a master of CCNA.
You will learn all the secrets about EIGRP, authentication, key-chains and more.
Does this sound interesting to you? Take a look here and let me show you how to Master CCNA!
IOS:
c3640-jk9s-mz.124-16.bin
Topology: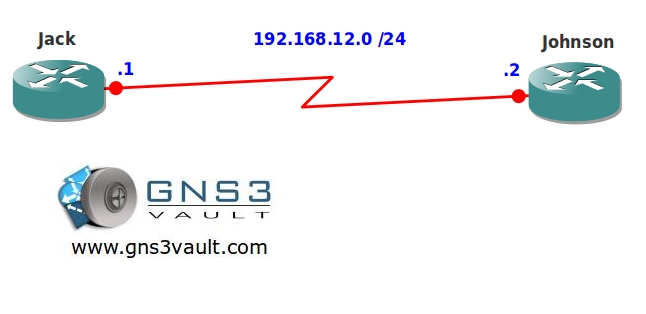 Video Solution:
Configuration Files
You need to
register
to download the GNS3 topology file. (Registration is free!)
Once you are logged in you will find the configuration files right here.