Scenario:
You are a network engineer responsible for the network for a local fighting tournament. Two of the fighters exchange tactics using BGP to advertise the networks. They don't want to exchange everything they know so they are a number of inbound route filters. You want to make sure the new filters are applied without resetting the BGP peering…get over here!
Goal:
All IP addresses have been preconfigured for you.
Configure EBGP between AS1 and AS2.
Advertise network 2.2.2.0 /24 on router Scorpion in BGP.
Configure a prefix-list on router SubZero that filters network 2.2.2.0 /24 and apply it to neighbor router Scorpion.
Ensure the changes are visible without resetting the BGP peering.
IOS:
c3640-jk9s-mz.124-16.bin
Topology: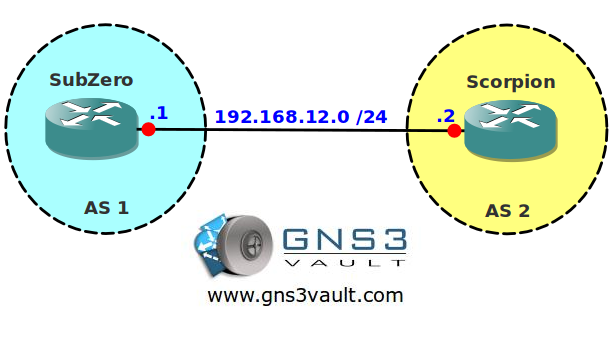 Video Solution:
Configuration Files
You need to
register
to download the GNS3 topology file. (Registration is free!)
Once you are logged in you will find the configuration files right here.