Scenario:
As the senior network engineer for a large international company you are always trying to optimize your network and get the most out of your time. The network has a lot of IBGP routers and you got sick of configuring all those neighbor peerings. To fix this you configured the network with some route reflectors…this has saved you a lot of work but you want to take it one step further by clustering the network.
Goal:
All IP addresses have been preconfigured for you. You don't see them in the topology picture or it would look like a picasso painting.
Each router has a loopback0 interface.
All routers belong to AS 1.
Configure router Tilburg as the route-reflector for router Amsterdam and Utrecht. Use cluster-ID 1.1.1.1.
Configure router NewYork as the route-reflector for router LosAngeles and Boston. Use cluster-ID 4.4.4.4.
Configure router Hamburg as the route-reflector for router Dusseldorf and Berlin. Use cluster-ID 7.7.7.7
Configure router Tilburg,Newyork and Hamburg with the correct IBGP neighbor peerings.
Advertise all loopback0 interfaces in BGP.
Ensure you have full reachability within AS 1. All loopback0 interfaces should be reachable.
IOS:
c3640-jk9o3s-mz.124-16.bin
Topology: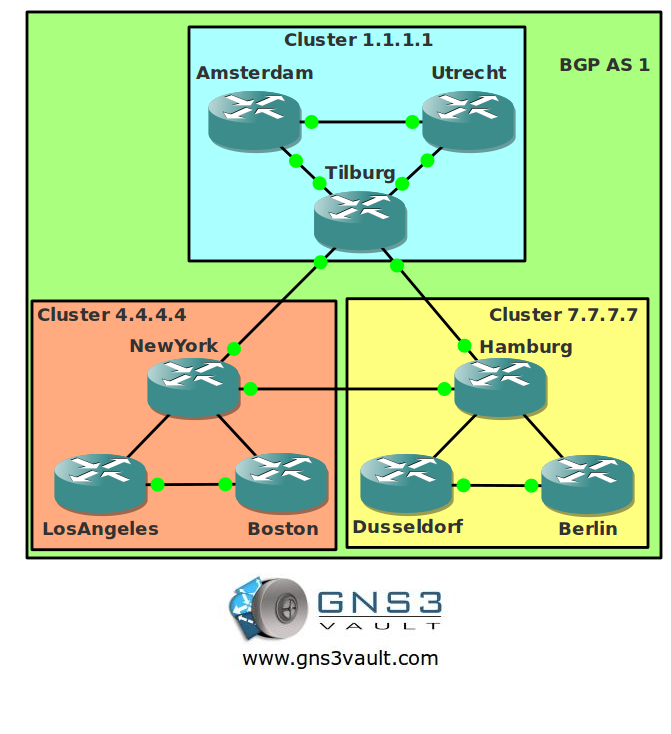 Video Solution:
Configuration Files
You need to
register
to download the GNS3 topology file. (Registration is free!)
Once you are logged in you will find the configuration files right here.