Scenario:
Your colleagues at "BigLabs" are very pleased with your performance so far…you managed to succesfully configure the "Basic GRE" lab and the "Site-to-Site IPSEC VPN" lab. Now it's time to show them who the true networking expert is and teach them how to configure a Secure GRE tunnel. This allows you to send routing protocol updates through the GRE tunnel, and use IPSEC to encrypt this traffic….let's do it!
Goal:
All IP addresses are preconfigured as specified in the topology picture.
Router Godzilla and Nessie have the following loopback interfaces:
Godzilla: Loopback0: 1.1.1.1 /24 Loopback1: 11.11.11.11 /24
Nessie: Loopback0: 3.3.3.3 /24 Loopback1: 33.33.33.33 /24
Configure EIGRP AS1 on all 3 routers, only advertise the 192.168.12.0 and 192.168.23.0 network, do not advertise the loopbacks.
Ensure Router Godzilla and Nessie can ping each other.
Configure a GRE tunnel between Router Godzilla and Nessie.
Configure the 192.168.13.0 /24 network on the GRE tunnel:
Godzilla: 192.168.13.1
Nessie: 192.168.13.3
Ensure you can ping the IP addresses that you configured on the tunnel interface.
Configure OSPF and use network commands to advertise the network on the GRE tunnel.
Advertise Loopback1 in OSPF on Router Godzilla and Nessie.
Ensure you establish a OSPF neighbour relationship and that you see the loopback1 interfaces in the routing table.
Now it's time to setup the IPSEC connection!
Create an IKE Policy with the following parameters:
Authentication: pre-shared-key
Encryption: AES 256
Hashing: sha
DH: Group 5
Lifetime: 3600
The pre-shared-key should be "VAULT".
Create an IPSEC Transform-set with the following parameters:
ESP (Encapsulatiing Security Payload)
Encryption: AES 256
Hashing: SHA-HMAC
Create the correct access-lists to encrypt the GRE tunnel traffic.
Create the correct crypto-map to finish the IPSEC configuration.
Verify the IPSEC configuration, you can use the following show/debug commands:
show crypto ipsec transform-set
show crypto map
show crypto ipsec sa
debug crypto isakmp
IOS:
c3640-jk9s-mz.124-16.bin
Topology: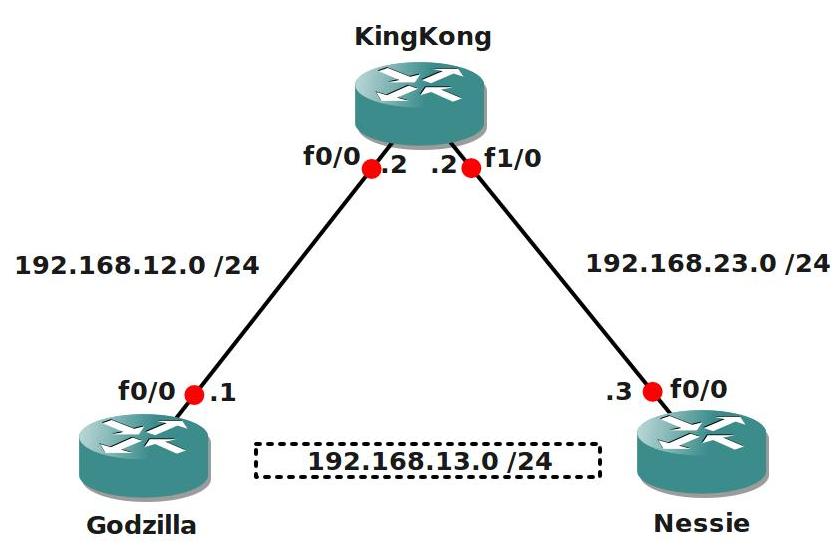 Video Solution:
Configuration Files
You need to
register
to download the GNS3 topology file. (Registration is free!)
Once you are logged in you will find the configuration files right here.