Scenario:
Recently the australian government has decided that every major City should be interconnected. So far different states have used their own routing protocol and some of the older hardware is unable to run OSPF. Government workers have connected all routers and configured redistribution between RIP and OSPF so that every network is reachable. Everything seems to work fine and all routing tables have full information, however some people complained that the network is slow. You notice that when you start a traceroute from router Sydney or Melbourne towards the networks behind router Adelaide (4.4.4.4) or Darwin (5.5.5.5) that the traffic is sent towards router Perth. This is a classical example of sub-optimal routing…up to you to improve things!
Goal:
All IP addresses have been preconfigured for you as following.
Every router has 1 loopback interface as following:
Loopback0: x.x.x.x /24 for example: 1.1.1.1 for router1.
RIP and OSPF are preconfigured for you.
Do not use show run! (this will spoil the fun 🙂 use the appropiate 'show' and 'debug' commands. This will teach you the skills needed to become a true troubleshooting master.
Do not make changes to the network commands in OSPF or RIP.
You are not allowed to use distribute-lists, prefix-lists or route-maps.
You are not allowed to change any of the redistribution commands.
Ensure traffic takes the most optimal path to it's destination, use traceroute to check this.
Ensure all routers have full connectivity, every network should be pingable using the most optimal path.
It took me 1000s of hours reading books and doing labs, making mistakes over and over again until I mastered all the troubleshooting issues for CCNP.
Would you like to be a master of troubleshooting too? In a short time without having to read 900 page books or google the answers to your questions and browsing through forums?
I collected all my knowledge and created a single ebook for you that has everything you need to know to become a master of troubleshooting.
You will learn all the secrets about redistribution, solving routing loops, sub-optimal routing and more.
Does this sound interesting to you? Take a look here and let me show you how to Master CCNP TSHOOT
IOS:
c3640-jk9s-mz.124-16.bin
Topology: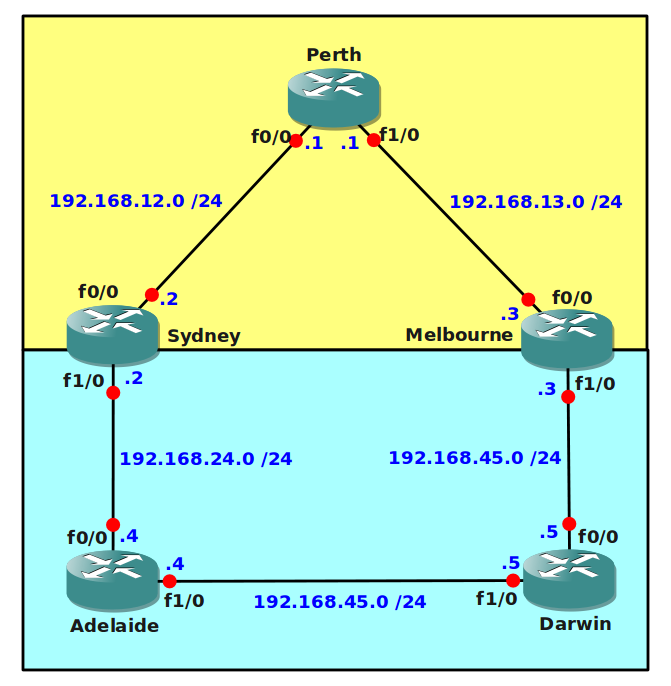 Video Solution:
Configuration Files
You need to
register
to download the GNS3 topology file. (Registration is free!)
Once you are logged in you will find the configuration files right here.