Scenario:
You are responsible for the frame relay and multicast configuration within the network. You use a lot of hub and spoke topologies and up to now you haven't seen any problems. Yesterday one of your customers called claiming they are having some problems. There is a videostation behind one of the spoke routers streaming video using multicast. It seems one of the other spoke routers is unable to receive this stream…let's see what you can do.
Goal:
All IP addresses have been preconfigured for you as specified in the topology picture.
OSPF is preconfigured for full connectivity.
Do not use show run! (this will spoil the fun 🙂 use the appropiate 'show' and 'debug' commands. This will teach you the skills needed to become a true troubleshooting master.
Start a ping on router SpokeA to IP address 224.9.9.9 to generate multicast traffic.
Configure the network so router Receiver can receive this multicast traffic.
You are not allowed to make any changes to the frame-relay network or change the PIM mode.
IOS:
c3640-jk9s-mz.124-16.bin
Topology: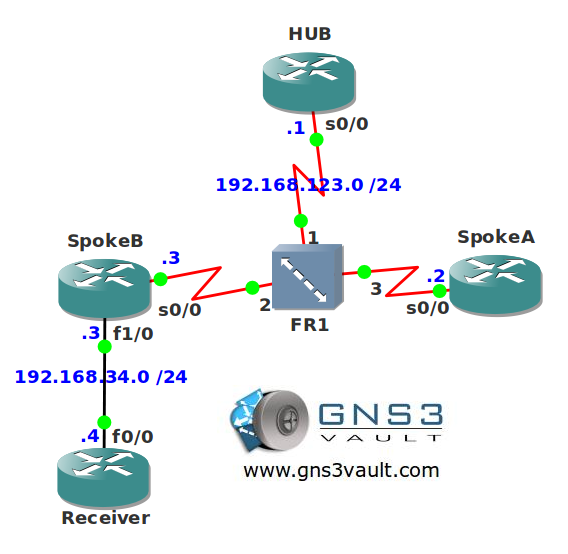 Video Solution:
Configuration Files
You need to
register
to download the GNS3 topology file. (Registration is free!)
Once you are logged in you will find the configuration files right here.