Scenario:
The fermentum corporation has hired you to troubleshoot their international network that consists of BGP routers. There are a number of issues. Some BGP routers are unable to establish a neighbor adjacency and others are having issues with prefixes not showing up in the routing tables. You have access to all devices so it's time to fix this network!

Goal:
All IP addresses have been preconfigured for you.
Do not use show run! (this will spoil the fun 🙂 use the appropiate 'show' and 'debug' commands. This will teach you the skills needed to become a true

troubleshooting

master.
The EBGP neighbor adjacency between router Dhaka and Berlin is not working, fix it!
The EBGP neighbor adjacency between router NewDelhi and Amsterdam is not working, solve this issue!
Router Berlin is supposed to receive the 11.11.0.0/16 prefix from router Dhaka but you don't see it in the BGP table, see if you can fix it.
Router Amsterdam is not receiving any prefixes through BGP from within AS 2, get rid of this problem.
Router Amsterdam is expecting the 5.5.5.0/24 prefix from router NewDelhi but you don't see it in it's BGP table.
Router Amsterdam should now have 1.1.1.0/24 in its routing table, however if you try to ping it you cannot reach it…fix this.
Whenever you send traffic from router Dhaka to NewDelhi nothing will arrive, make the required changes to fix this problem.
It took me 1000s of hours reading books and doing labs, making mistakes over and over again until I mastered all the troubleshooting issues for CCNP.
Would you like to be a master of troubleshooting too? In a short time without having to read 900 page books or google the answers to your questions and browsing through forums?
I collected all my knowledge and created a single ebook for you that has everything you need to know to become a master of troubleshooting.
You will learn all the secrets about BGP troubleshooting and more.
Does this sound interesting to you? Take a look here and let me show you how to Master CCNP TSHOOT
IOS:
c3640-jk9s-mz.124-16.bin
Topology: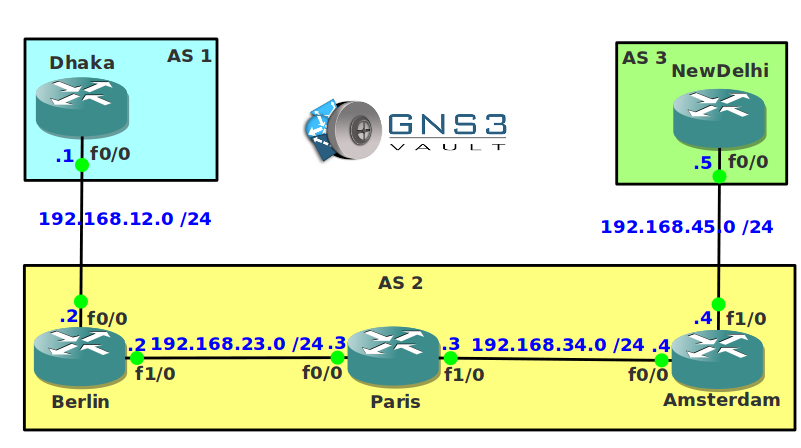 Configuration Files
You need to
register
to download the GNS3 topology file. (Registration is free!)
Once you are logged in you will find the configuration files right here.