Scenario:
You are the owner of a Dutch webshop selling Dutch export products. Recently there have been problems on the network, some users had access to certain parts of the network without authorization. You want to use a RIP solution to filter some of the networks. See if you can dutchify this network…
Goal:
All IP addresses have been preconfigured for you.
All routers have a loopback interface as following:
WoodenShoe: 1.1.1.1/24
Cheese: 2.2.2.2/24
Tulip: 3.3.3.3/24
Windmill: 4.4.4.4/24
Configure RIP version 2 on all routers, achieve full connectivity for all networks (including the loopbacks).
You notice router WoodenShoe is sending RIP updates to the loopback interface, you have to stop this.
Create a prefix-list so router Cheese doesn't advertise it's loopback0 interface to router Windmill.
Create an access-list so router Tulip doesn't accept network 1.1.1.0 /24.
Create an offset-list so router Windmill doesn't accept network 3.3.3.0 /24.
Change the AD (Administrative Distance) so router WoodenShoe doesn't place network 2.2.2.0 /24 in its routing table.
It took me 1000s of hours reading books and doing labs, making mistakes over and over again until I mastered all the protocols for CCNA.
Would you like to be a master of networking too? In a short time without having to read 900 page books or google the answers to your questions and browsing through forums?
I collected all my knowledge and created a single book for you that has everything you need to know to become a master of CCNA.
You will learn all the secrets about RIP, filtering networks and more.
Does this sound interesting to you? Take a look here and let me show you how to Master CCNA!
IOS:
c3640-jk9s-mz.124-16.bin
Topology: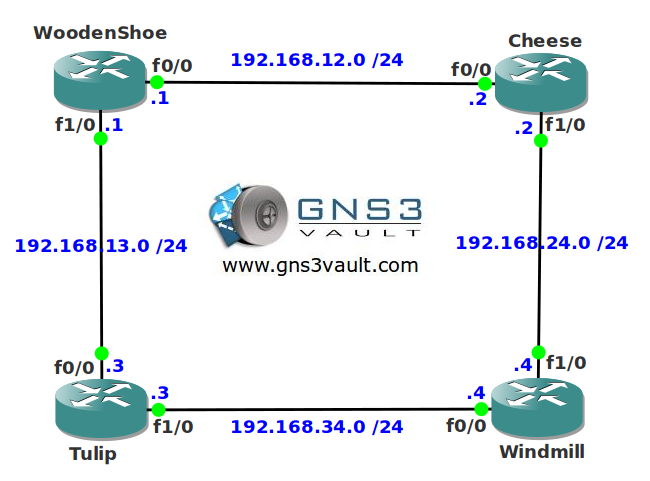 Video Solution:
Configuration Files
You need to
register
to download the GNS3 topology file. (Registration is free!)
Once you are logged in you will find the configuration files right here.