Scenario:
The Australia Zoo has hired you as a crocodile hunter network engineer responsible for all bits & bytes in the zoo. As an experiment the zoo decided to have the kangaroos and dolphins around the same lake to study the interaction between the animals. Both departments need to have access to each other's data which means you'll have to exchange routing information. To make sure there is no single point of failure you will use router Lassie and Willy to configure two-way redistribution. This however will also introduce new problems like routing loops or sub-optimal routing, it's up to you to enable redistribution and solve any problems along the way…
Goal:
All IP addresses have been preconfigured for you.
RIP and EIGRP have been preconfigred for you on the corresponding routers.
Enable two-way redistribution between RIP and EIGRP on router Lassie and Willy.
You notice that router Willy or Lassie are sending traffic to 4.4.4.4 towards router Flipper, make sure you get rid of this sub-optimal routing.
Use route tagging to accomplish this.
It took me 1000s of hours reading books and doing labs, making mistakes over and over again until I mastered all the routing protocols for CCNP.
Would you like to be a master of routing too? In a short time without having to read 900 page books or google the answers to your questions and browsing through forums?
I collected all my knowledge and created a single ebook for you that has everything you need to know to become a master of routing.
You will learn all the secrets about redisitribution between RIP and EIGRP, sub-optimal routing, route tags and more.
Does this sound interesting to you? Take a look here and let me show you how to Master CCNP ROUTE
IOS:
c3640-jk9s-mz.124-16.bin
Topology: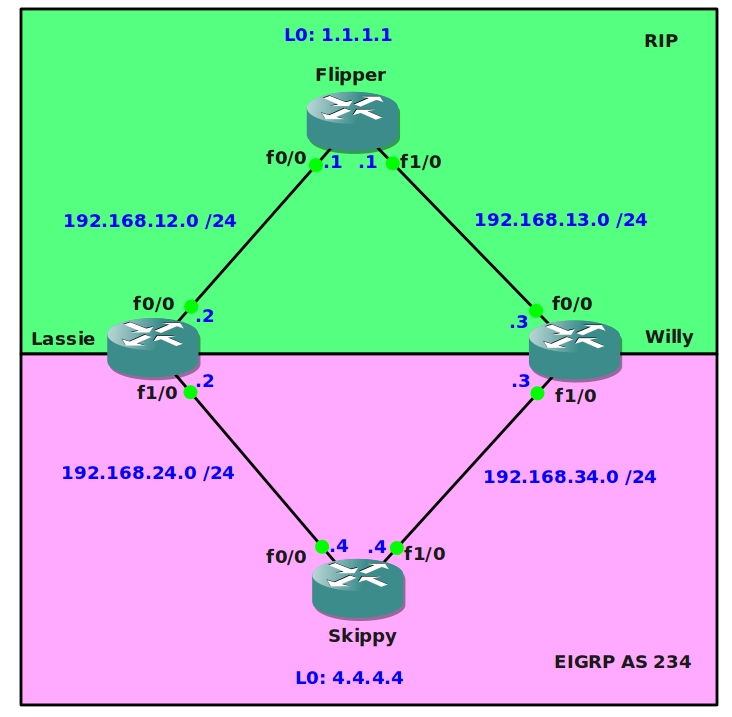 Configuration Files
You need to
register
to download the GNS3 topology file. (Registration is free!)
Once you are logged in you will find the configuration files right here.