Scenario:
You have been a network engineer as long as you can remember. Recently the company experienced a network failure and your colleagues have blamed you for misconfiguration of the routers. As a result you are taken to a mental institution and it seems your networking days are over…however during your sleep you are being plagued by nightmares about redistribution scenarios. Let's see if you can suckerpunch this one!
Goal:
 All IP addresses have been preconfigured for you:
Loopback interface:
L0: x.x.x.x /24, for example 1.1.1.1 for router 1.
EIGRP AS 123 has been preconfigured on router BabyDoll,SweetPea and Rocket.
OSPF Area 0 (Process 234) has been preconfigured on router SweetPea, Rocket and Blondie.
EIGRP AS 356 has been preconfigured on router Rocket, BlueJones and Amber.
RIP Version 2 has been preconfigured on router Blondie, Amber and WiseMan.
Router BabyDoll's loopback0 interface is advertised in EIGRP AS123.
Router SweetPea's, Blondie's and Rocket's loopback0 interfaces are advertised in OSPF Area 0.
Router Amber's and BlueJones's loopback0 interfaces are advertised in EIGRP AS356.
Router WiseMan's loopback0 interface is advertised in RIPV2.
Configure 2-way redistribution on router SweetPea and Rocket between EIGRP AS123 and OSPF.
Configure redistribution on router Rocket between EIGRP AS356 and OSPF.
Configure redistribution on router Blondie between RIPV2 and OSPF.
Ensure you have full connectivity at this moment, every network / loopback should be reachable from any device.
Remove the "network 1.0.0.0" command on router BabDoll and replace it by redistributing the loopback0 interface into EIGRP AS123.
Do a traceroute from router SweetPea and Rocket to 1.1.1.1, you notice packets are sent through the OSPF network. Ensure they take the most optimal route to the destination.
Ensure all traffic will be sent using the FastEthernet links. The Frame-Relay links should only be used as a backup when the FastEthernet links are down.
It took me 1000s of hours reading books and doing labs, making mistakes over and over again until I mastered all the routing protocols for CCNP.
Would you like to be a master of routing too? In a short time without having to read 900 page books or google the answers to your questions and browsing through forums?
I collected all my knowledge and created a single ebook for you that has everything you need to know to become a master of routing.
You will learn all the secrets about RIP, OSPF, EIGRP, redistribution between them and more.
Does this sound interesting to you? Take a look here and let me show you how to Master CCNP ROUTE
IOS:
c3640-jk9o3s-mz.124-16.bin
Topology: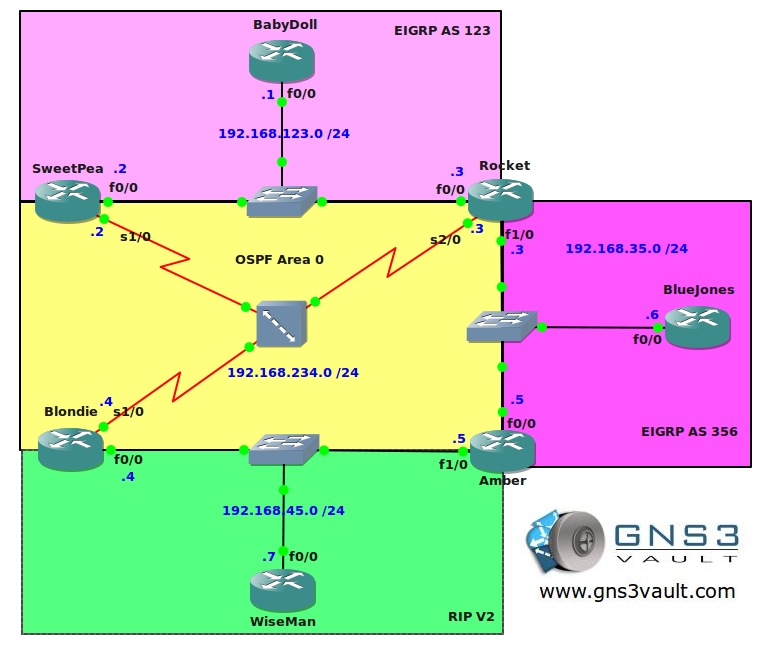 Configuration Files
You need to
register
to download the GNS3 topology file. (Registration is free!)
Once you are logged in you will find the configuration files right here.