Scenario
Gotham City once again needs your help, one of your colleagues decided to change the configuration on all routers to "sparse-mode" instead of "sparse-dense-mode". Some villain hacked your routers last week and you didn't notice, the command "sparse-dense-mode" is not available anymore…you will need to fix the network or the citizens won't be able to watch the latest videos of action replays.
Goal:
All IP addresses have been preconfigured for you.
Configure OSPF on all routers, advertise all networks. Achieve full connectivity.
Configure sparse-mode multicast on all routers.
Configure AutoRP so router Joker is the Rendezvous Point (RP), use the loopback0 interface.
Configure AutoRP so router Joker is also the mapping agent (MP), use the loopback0 interface.
Configure router Batman to join the multicast group 224.4.4.4 on it's Fastethernet interface.
Make sure you can ping the 224.4.4.4 group address from router Catwoman.
You are not allowed to manually configure the RP address on any router.
IOS:
c3640-jk9s-mz.124-16.bin
Topology: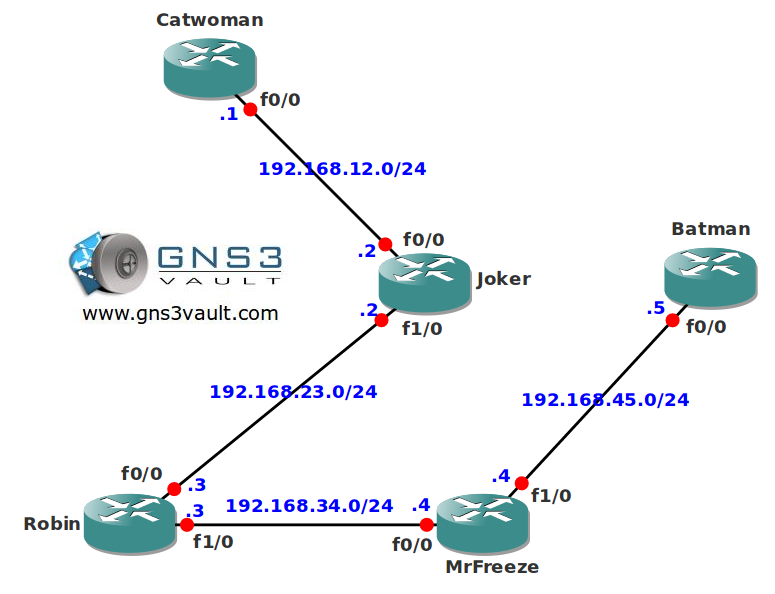 Video Solution:
Configuration Files
You need to
register
to download the GNS3 topology file. (Registration is free!)
Once you are logged in you will find the configuration files right here.