Scenario:
As the senior network engineer for a small ISP you are responsible for all new network services. New customers are requesting MPLS services and so you decide to implement a new network. You want to start with the Core of this network so you take a couple of brand new routers and create a new MPLS Backbone with P (Provider) routers. Let's see if you can implement MPLS…
Goal:
All IP addresses on the customer routers have been preconfigured for you.
OSPF has been configured on all routers and all networks are advertised.
Configure router P2, P3 and P4 to activate MPLS an IETF standard MPLS protocol.
Configure router P1 to enable the same MPLS protocol without using the 'mpls ip' command.
Configure all routers so only label range 20 – 200 will be used.
Configure router P1 to use the IP address on the F0/0 interface as the MPLS Router-ID.
Configure all routers to send the MPLS Hello every 2 seconds, the holdtime should be 10 seconds.
Configure router P3 and P4 to establish the LDP connection between their fastethernet interfaces.
Configure all routers to use MPLS MD5 authentication, the password should be "VAULT".
The TTL from IP packets should be copied into the label on all routers.
Advertise a default route on router P2.
Make sure that there is also a label advertised for the default route.
There should be a hop count for LDP, set the maximum hop to be 10 on all routers.
Change the maximum MTU for labeled packets on router P1's interface F0/0 to 2000.
IOS:
c3640-jk9s-mz.124-16.bin
Topology: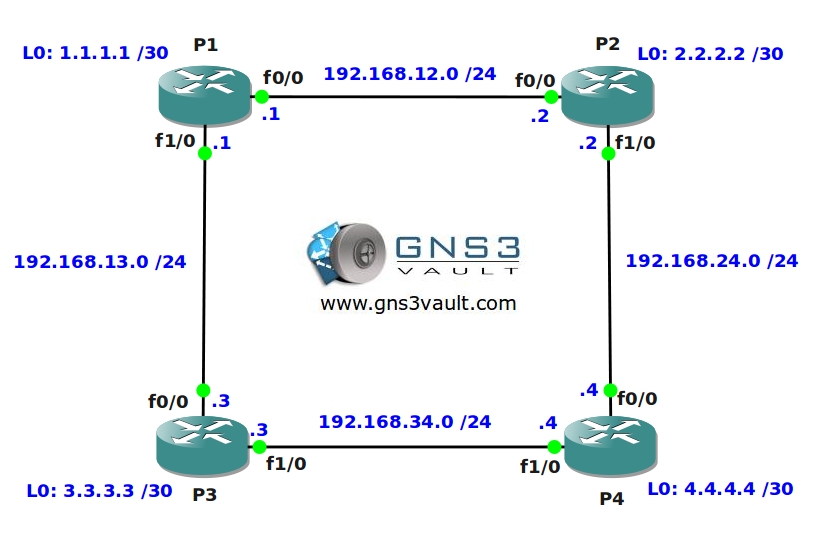 Video Solution:
Configuration Files
You need to
register
to download the GNS3 topology file. (Registration is free!)
Once you are logged in you will find the configuration files right here.